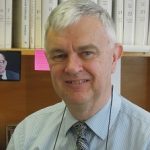 The Sydney College of Divinity established its first research centre, the Centre for Gospels and Acts Research (CGAR), in 2017, under the leadership of Associate Professor Peter Bolt. Now under the leadership of Professor Neil Ormerod, the SCD has initiated a comparable network within the discipline area of Theology.
The Sydney College of Divinity Theology Research Network (TRN) exists to promote theological research within the SCD. It draws together scholars from the diverse theological disciplines (systematics/doctrine, patristic, biblical theology, ethics, liturgy) within the SCD, and provides them with a forum and focus for theological research. Unlike the CGAR, the TRN does not have a specific thematic focus but will choose topics of interest for study over a two-year timeframe. All members of the TRN will be invited to contribute from their own distinct perspective to the topic under consideration. While all faculty members within the SCD Theology discipline are specifically invited to participate in the TRN, that same invitation will be extended to all SCD faculty member who might be interested in the chosen topic.
The TRN will operate with a two-year cycle of seminars culminating in a conference on a given topic. For 2020-21 the topic is: "Theologising in the shadow of a pandemic". There will be six seminars operating through Zoom, three in each year, culminating in a conference late in 2021.
The first of these seminars will be held on 28 May 2020. Dr Doru Costache, Senior Lecturer in Theology (Patristic Studies) from St Cyril's Coptic Orthodox Theological College will be presenting a paper on Affirming Creation's Goodness in a Time of Pandemic: Patristic Insights.
At this stage there is no formal membership for the TRN. As a network it remains an informal and inclusive structure that welcomes diverse participation in our conversations from a variety of perspectives.