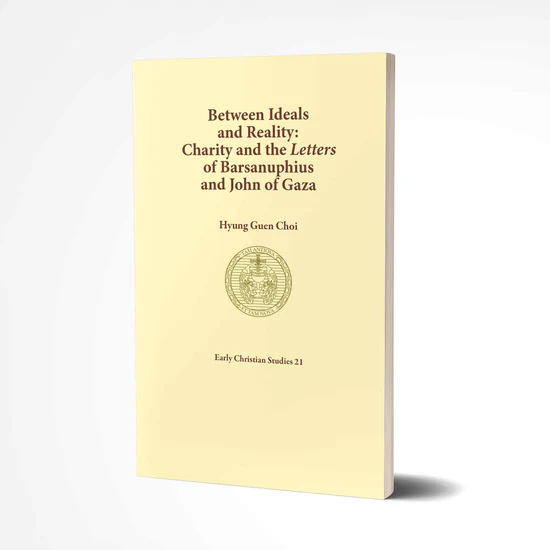 In early October 2020, SCD Press released Volume 21 in the prestigious Early Christian Studies series, Dr Hyung Guen Choi: Between Ideals and Reality: Charity and the Letters of Barsanuphius and John of Gaza.
Dr Choi is the first Korean author in the series. After earning a BA in philosophy from Changwon University, and a ThM from Presbyterian University and Theological Seminary (PUTS) in Church History, Dr Choi became a student of Macquarie University (Sydney) where he earned both an MA and a PhD in Ancient History. Both of his theses gave special attention to the monastic movement in late antique Palestine. This book is a publication of his PhD thesis.
The book examines the compiled letters of Barsanuphius and John, each a respected holy man, analyzing both their view of charity (giving gifts, welcoming strangers, and caring for the sick) and investigating the relationship between social inferiors, wealth and benefactors. Against the geographical, socioeconomic, intellectual and religious background of the city of Gaza during Late Antiquity, it investigates the spiritual guidance provided by the Gazan holy men in relation to giving gifts to the poor, entertaining strangers, and caring for sick laymen and monks. While Barsanuphius and John sug­gest an ideal guideline regarding charity, they also offer realistic advice to their lay and monastic dis­ciples on the basis of their personal circumstances. They consider not only the beneficiaries, but also the benefactors, offering spiritual direction with a view to their spiritual and ascetic wellbeing. This style of spiritual direction is related to their self–understanding as spiritual fathers, meditators, and intercessors, as well as defenders of the faith and their disciples.
Dr Hyung Guen Choi he is currently a research fellow of HK+ Project team, Institute for Theology at Anyang University (Anyang, Korea), where he continues his research focus on lay and monastic charity, monks in motion, and intercultural relations between monks and their neighbours in the Mediterranean East during the late antique or early medieval period.
Sydney College of Divinity and the SCD Korean School of Theology congratulate Dr Choi on the publication of this fine piece of work.